With a recipe of love, labor and belief (and, oh, add some sugar), The Sweet Palace in tiny Philipsburg, Montana, has fueled a rebirth of a former mining town once reliant on precious metal into a destination now defined by precious mettle.
Opened in 1998 by Shirley Beck and Dale Siegford, the candy store has become a revival keystone of the once-bustling silver mining nexus. "We often tell people that they have to be looking for Philipsburg to get here," says Beck, a longtime participant in Certified's distribution and print programs. "When they come, they're already looking for us." In the spring of '19, Beck and The Sweet Palace played starring roles in the PBS documentary on the town's rebuild, "Saving the Burg." "It's 28 years of my life in 58 minutes, and I was just about in a cold sweat the first time I saw it," Beck says.
Likening the store's magnetic communal effects to the film "Chocolat," Beck's work to transform Philipsburg takes visitors back in time. "Here are all these 1890s buildings and the flowers are out in the late spring and the flags are out, and it is very charming," she says. "It's a dense three-and-a-half blocks that we've worked very hard at restoring and maintaining with elbow grease and personal investment." The Sweet Palace mixes antiquities with a fresh confections, including more than 1,100 kinds of candy. The look and feel of the 3,000-square-foot space with tin ceiling and 1890s furniture was curated piece-by-select-piece.  "With pink-and-white stripe chandeliers that you can't even get bulbs for anymore," Beck said.
Made with antique equipment, The Sweet Palace's popular salt water taffy comes in 72 different flavors.
"We greet people with our salt water taffy," says Beck. "The Huckleberry Taffy has become a favorite. The Huckleberry is a big deal here in Montana, as it's a berry that can't be domesticated; there's a symbiosis in the way it's grown, so you need to go get the wild ones and share 'em with the bears."
Beck's vision is as much about sating a sweet tooth as it is making each Palace guest feel like royalty.
"You get here, and you can just be yourself and absorb the fact that we're interested in you when we're giving you a dark nut cluster," Beck concludes. "What embodies the whole experience is the warmth of the human spirit."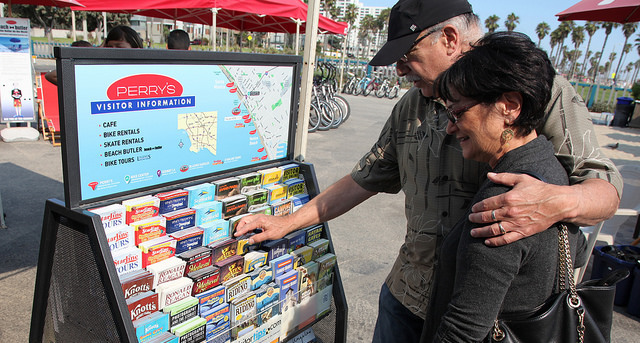 Advertise your business in our brochure racks or host a display at your location.